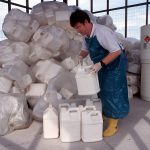 The challenges of waste disposal is an area of growing concern in the US, particularly among farmers.  The University of Florida is conducting survey research to explore how Florida farmers handle their waste and garbage.  The statewide survey will track chemical packaging and organic waste management across a number of different kinds of agricultural practices.  The results of this study will be useful to help mitigate environmental quality issues related to agricultural waste management, and help promote the presence of agriculture in the state for future generations.
To participate in this anonymous survey please click the following University of Florida link:
The goal of the project is to document how farmers in Florida handle their farm waste and garbage. It aims to increase understanding of a common challenge for Florida's farmers. Participation is voluntary. The survey is anonymous and will take about 5-10 minutes to complete. If you volunteer for a follow-up interview, it also will take about 5-10 minutes. The study will maintain confidentiality and anonymity of all responses. Study data will be kept in a secure location on a password-protected hard drive.
It should only take about five minutes to complete.  Thank you for your time.